Top 5 Digital Marketing Course in Vadodara
Great strides have been made toward digital transformation in India in the last couple of years. At the same time, it can also be seen that there is a demand for digital-savvy professionals that is not being fulfilled. This led to a substantial increase in Digital Marketing Courses in Vadodara in the past years.
Our blog's purpose is to review the best Digital Marketing Institutes in Vadodara and highlight illuminating information involving course modules, course durations, course fees, and course reviews by students. Below we have ranked each institute that offers the best Digital Marketing courses in Vadodara. Before that, we would like to discuss the scope and career of Digital Marketing to show the demand of the Digital Marketing industry. Along with the importance of having a Digital Marketing certification in your resume.
Scope of Digital Marketing
Learning the scope of any field is crucial. It enables you to visualize your growth in the upcoming years, it allows you to set your goals, and let you analyze your progress. Doing a digital marketing course is not the first step. Understanding the industry is. The growth, future, and career prospect in the industry is crucial before leaping into any courses. Here is a basic statistics showing the digital population across India in 2022.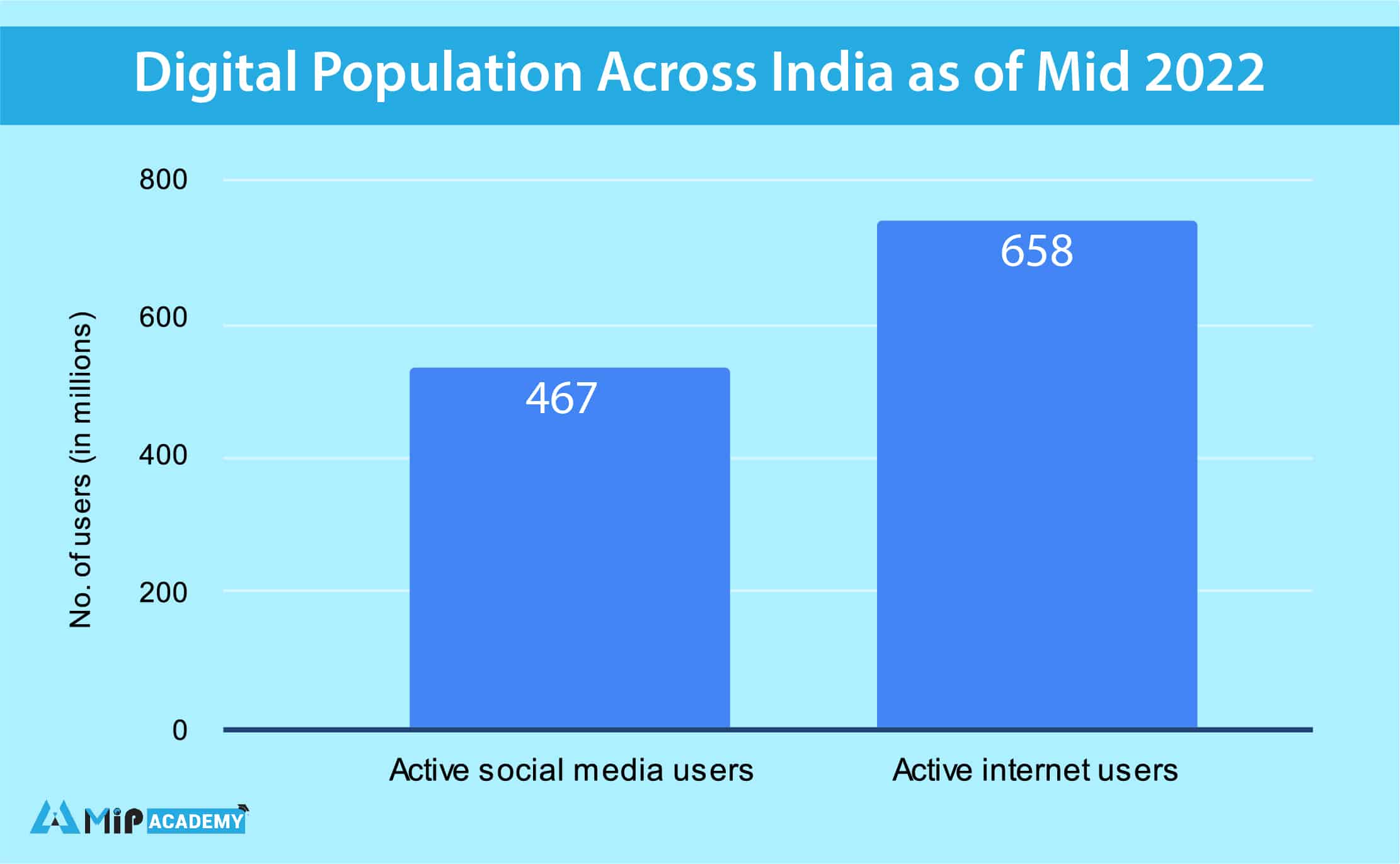 Let us understand the need for Digital Marketing. Why do companies use Digital Marketing? They use it because it provides significant benefits to businesses. Be it a small business or a large one, the main goal is to create a customer base and digital marketing enables you to get access to an enormous marketplace that then connects you to potential customers. It can also be proved to be a cost-effective method when compared to traditional marketing at such a range.
The digital marketing industry is one of the very few industries that were very mildly affected by the covid-19 outbreak. This is because of the nature of this industry. Digital marketing can provide the ease of targeting an audience, the investment is comparatively low and the returns are high. The internet is one of the main aspects of digital marketing and here is a stat showcasing the internet penetration rate in India from 2012 to 2021, this backs the usage of the internet and shows the rate will only rise with time, giving digital marketing firms more and more audience to work with.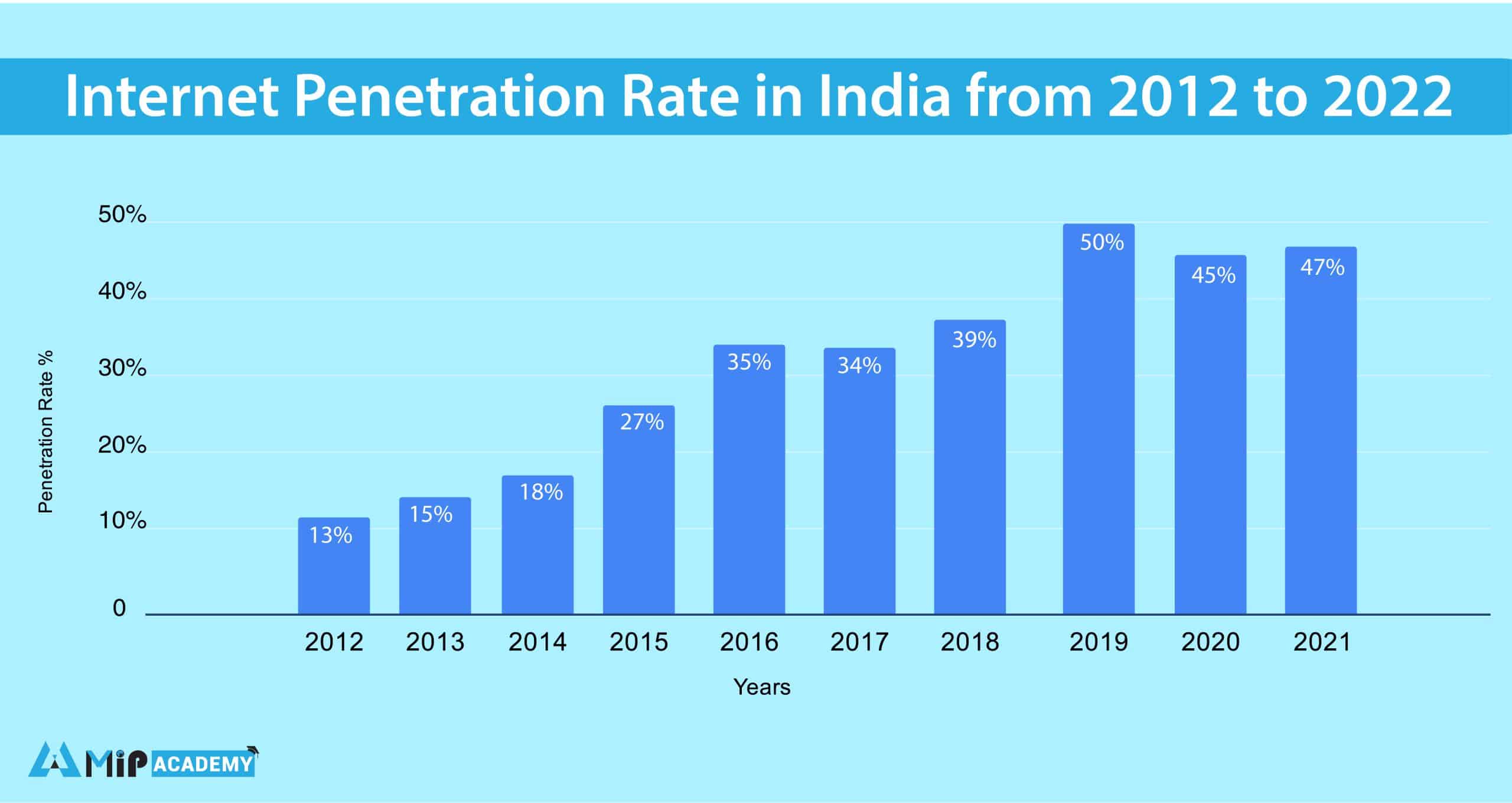 This graph backs the usage of the internet and shows the rate will only rise with time, giving digital marketing firms more and more audience to work with. It is also expected to grow by 5.4% by the end of 2022.
Digital Marketing Skills in Demand
It is very important to know what is exactly required to enter the digital marketing industry. There are many digital marketing courses in Vadodara but which will be right for you is the main question you need to ask yourself. SEO is an integral part of the digital marketing industry and to be able to create SEO-friendly content that can rank higher on search engine result pages is crucial.
Now to be able to do that and more you need to master some skills, as there are different career opportunities in the digital marketing industry, and there are skill sets for those different careers as well. Below are some of the in-demand digital marketing skill sets that you may focus on learning through digital marketing courses.
Search-engine-optimization

Copywriting

Pay-per-click

Content Marketing 

Data Analytics

Paid Digital Media
When you are looking for digital marketing classes in Vadodara, you must look at institutions that can teach you a few of these above-mentioned skillsets. Even learning one or two of these skills as a fresher can be a kickstart to your digital marketing career.
Careers in Digital Marketing
Today, you will find the majority of people online, and being able to showcase your business online with such ease is a great benefit. Now, these businesses have created career opportunities as well. Therefore doing digital marketing courses in Vadodara can give you an edge for these job positions. Later, with experience, you can also look at owning your business in the digital marketing industry. We have listed a few career prospects in this industry below: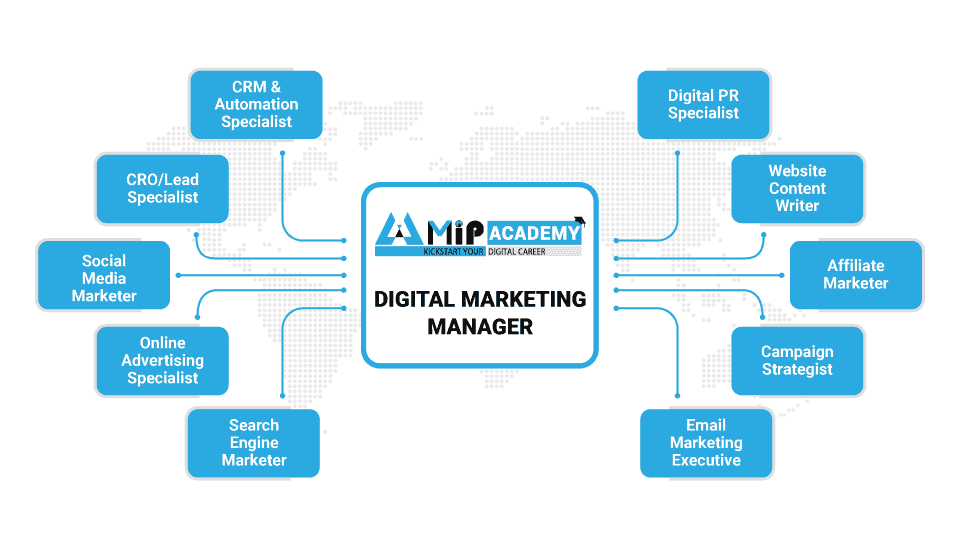 CRM & Automation Specialist – The customer relationship manager will be responsible for interpreting data, designing, and implementing strategies to make sound business decisions. As an automation specialist, Your responsibility is to manage the marketing automation platforms and implement programmatic and operational initiatives.
CRO/Lead Specialist – Conversation rate optimization specialist is responsible for planning a project from scratch to delivering it successfully to clients and also managing the proper flow of communication with them. Along with converting UX strategies successfully.
Social Media Marketer – The SMM manager is responsible for managing the company's social media profiles by planning strategies, implementing them, and monitoring them to increase brand awareness.
Online Advertising Specialist – The role of a digital advertising specialist is to set up ads on advertising platforms and optimize them. Along with this, he/she is also required to do reporting on different ad campaigns.
Search Engine Marketer – The responsibilities of this job role are primarily to collect and analyze data, identify new trends, research competitors advertising links, etc.
Digital PR Specialist – This job role includes creating PR strategies that are creative and unique. Also to develop and maintain relationships with key publishers or journalists
Website Content Writer – The job responsibilities for such a position is to create unique content according to the project that can help users to be engaged and finally check your content with SEO guidelines to help rank the content higher in the search engine.
Affiliate Marketer – An affiliate marketer is responsible for identifying new affiliate options and then launch, maintain, and optimize affiliate programs and create a report for the same.
Campaign Strategist – A campaign strategist needs to create a new marketing campaign to build a customer base, further monitor the performances and results of the campaign.
Email Marketing Executive – An email marketer's responsibility is to create email marketing campaigns from scratch, identify the target audience, design emails accordingly, manage the database, etc.
How To Start A Career in Digital Marketing?
You must familiarize yourself with a few basic aspects of digital marketing before you. This will certainly help you to learn better. To start with, you should work on your soft skills. Just because everything is online, does not mean you should avoid your soft skill progress. Soft skills include interpersonal skills, communication skills, creative thinking, conflict resolution, etc.
The next aspect you should focus on is related to digital marketing directly i.e. to familiarize yourself with social media platforms like Facebook, Instagram, Pinterest, Snapchat, etc. Learn about their features in brief.
One aspect that digital marketing revolves around is the search engine. So it would be highly beneficial for you to learn how a search engine works. After you have gained knowledge about the basics of digital marketing and worked on your soft skills, then you can join a digital marketing course that will help you to connect all your dots and build on your knowledge and improve your digital marketing skills.
You can further do certification courses, freelance work, and seo course in Vadodara to build your resume. So, to achieve all this lets us help you with your first step into the digital marketing industry and find you the best digital marketing training in Vadodara.
How To Choose The Best Digital Marketing Institute?
The Digital Marketing industry requires candidates with the right skillsets and to bridge this gap, there have been many institutes offering digital marketing courses in Vadodara. The real question here is how to choose out of this pool of options. Well, there are certain points that you need to keep in mind while evaluating a digital marketing institute
Your Objective of Learning
You must be clear about what you want to learn in digital marketing and what is your ultimate objective of learning and what do you expect for a digital marketing course. Then, compare your objective with the digital marketing institute's objective to see how you both align.
Course Modules
Next, your focus should be on the course that the institute is offering. Check whether the modules are up to date with the industry requirement. Also clear out your objective for doing this course and whether these are modules are enough for it or not. You should get a clear path of what will be achieved after you have completed the course.
Know Your Trainer
Once you are clear with what the institute is offering, you should enquire about your trainers and their experience in the industry. This is very important because the course modules can be up to date and excellent but if the trainers themselves are not able to properly channel the flow of the modules it can become very ineffective.
Practical Training
Next, you should focus on the training system of the institute, what are their beliefs about teaching, and their approach towards teaching students. One can be new to this digital marketing world and one can be already at an intermediate level. So how do the trainers approach that and whether you would be given practical training too for better understanding or is it going to be just plain study material and direct teaching from those materials?
Institutes USPs
Lastly, you should also ask them how their institute is different from other institutes which will urge them to tell you what their USPs are, this way you would have a good set of parameters to make your decision.
Best Digital Marketing Courses in Vadodara
We have gone through the course details of the top 5 digital marketing institute in vadodara, along with their other course highlights and compiled them into one for your ease in choosing the best digital marketing course.
1. MIP Academy

MIP Academy is a digital marketing institution and a brainchild of MyInfopie which is a digital marketing agency. It is known for providing professional high-quality digital marketing courses in Vadodara and to help its students achieve opportunities worldwide. They have a very up-to-date curriculum that also meets US standards for training students. This foreign exposure gives their student an edge over others. That being said, their primary focus is to train their students to be globally competitive.
Course Details

Course Name
All-in-one Advanced Digital Marketing Course
Course Rating
4.9/5.0
Course Fee
₹25,000
Course Duration
3 Months
Course Methodology
Classroom Training
Weekly Assessments
Hands-on Projects
In-house Internship
Course Modules
Module 1 – Introduction to Digital Marketing
Module 2 – Website Development
Module 3 – Blogging
Module 4 – Analytics & Reporting
Module 5 – Search Engine Optimization (SEO)
Module 6 – Search Engine Marketing (SEM)
Module 7 – Social Media Marketing (SMM)
Module 8 – Email Marketing
Module 9 – Sales Funnel
Module 10 – Affiliate Marketing
Module 11 – Native Ads
Course Highlights
100% Internship

Dual Certificates

In-House Placement

FREE Demo Session

USA Scholarship

Placement Training

Practical Real-Life Projects

Premium Tools

Domain & Web Hosting

Adaptive Course Modules

Fee Installments

Agency Exposure

Omni-channel Approach

Contact Details

Website
mipacademy.in
Phone No.
8160564486
Email Id
[email protected]
Address
203, Rubellite Building, near Urmi Cross-road, Akota, Vadodara, Gujarat 390020, India
2. ASDM (Ahmedabad School of Digital Marketing)

ASDM was established in 2012 and has trained more than 10,000+ Individuals, 1000+ entrepreneurs, and Startups. They have their branches in different cities, one being Vadodara, and are also able to provide successful digital marketing courses in Vadodara. They believe in teaching from the basics and then move up the ladder. They also offer multiple programs for students, working professionals, and CEOs as per the profile.
Course Details

Course Name
Advanced Digital Marketing Program
Course Rating
4.7/5.0
Course Fee
₹20,000
Course Duration
2 Months/120 Hours
Course Modules:
Digital Marketing 

Search Engine Optimization

Content Marketing

Freelancing Projects 

Affiliate Marketing

Facebook Pixel

Linkedin Marketing

Google Analytics

SEM Tools

Domain and Hosting

Influencer Marketing

WordPress

Facebook Sales Funnel

Mobile Marketing

Email Marketing

Google Algorithm

Social Media Marketing

Facebook ChatBot

YouTube Marketing Techniques

Online Presence Analysis

Content Marketing Services

Pay Per Click Services

Local Business Marketing

E-commerce Marketing

Reputation Management

Brand Management

Conversion Rate Optimization
Course Highlights:
Assured Freelancing Project Training

Sales/Marketing Skills

Business Management Skills

Communication Skills and Soft Skills Training

Interview Training

15+ International Certificates

100% Live project training

Startup emission program

Google/Amazon Certified
Contact Details

Website
www.asdm.co.in/digital-marketing-in-vadodara
Phone No.
9016970734
Email Id
[email protected]
Address
5th Floor, Galav Chamber, 503, Nr Dairyden Circle, Sarod, Sayajiganj, Vadodara
3. Weltec

Weltec is known for providing digital marketing courses in Vadodara in collaboration with industry professionals. They provide both short-term and long-term certification courses according to your requirement. Their courses are job-oriented. They aim to build competencies that give you an edge over others.
Course Details

Course Name
Advanced Digital Marketing Program
Course Rating
4.6/5.0
Course Duration
120 Hours
Course Modules:
Introduction to digital marketing

Analysis & keyword research

Search engine optimization (SEO)

On-Page optimization

Off-Page optimization

SEO updates & analysis

Major Google algorithm updates

Local business & listings

Search engine marketing (SEM)

Search media optimization (SMO)

Social media marketing (SMM)

Google analytics

Google webmaster

Google my business

Google keyword planner

Google trends

Google Ads

Google merchant

Google tag manager

E-commerce reseller training

Content Marketing

Video Marketing

WordPress SEO concepts

Email Marketing

Sms Marketing
Course Highlights:
Extensive network for job placement

Professional Trainer 

Practical Approach Training

100% Live and Practical Projects

Interview Preparation

100% Placement Support

Best Course Fee Structure

Flexible batch timing for students and working professionals

Practical training with international certifications

Mock interviews & soft skills training

Small size batch
Contact Details

Website
https://www.weltec.in
Phone No.
+91 9904454321
Email Id
[email protected]
Address
3rd Floor, Commerce Center,
Beside Hotel Limra,
Opp. BBC Tower, Sayajigunj,
Vadodara – 390005
4. DigiDive
DigiDive is one of the digital marketing institutes in Vadodara that has been in the business of teaching digital marketing courses since 2014. They aim to provide in-depth knowledge about the courses they offer like SEM, SMM, and SEO training in Vadodara. Their approach is more practical than theoretical that may urge the students to be more interactive and help them understand better. They focus on small batches to give each student more attention. They are also told to be providing customized plans for each student.
Course Details

Course Name
Digital Marketing Program
Course Rating
4.5/5
Course Fee
₹15,000 – ₹18,000
Course Duration
3 Months
Course Modules:
Search Engine Optimization (SEO)

Social media marketing (SMM)

Email marketing

Website Development

Pay Per Click (PPC)

Graphics 

Video Editing

Animation & Content
Course Highlights
Involved in Live Projects

Small Size Batches

Customized learning plans

Practical Training With Case Studies
Contact Details

Website
https://digidiveglobal.com/digital-marketing-course
Phone No.
090546 26929
Address
C- 121, Old Padra Rd, JP Nagar, Tagore Nagar, Diwalipura, Vadodara, Gujarat 390007
5. Shine Computer Education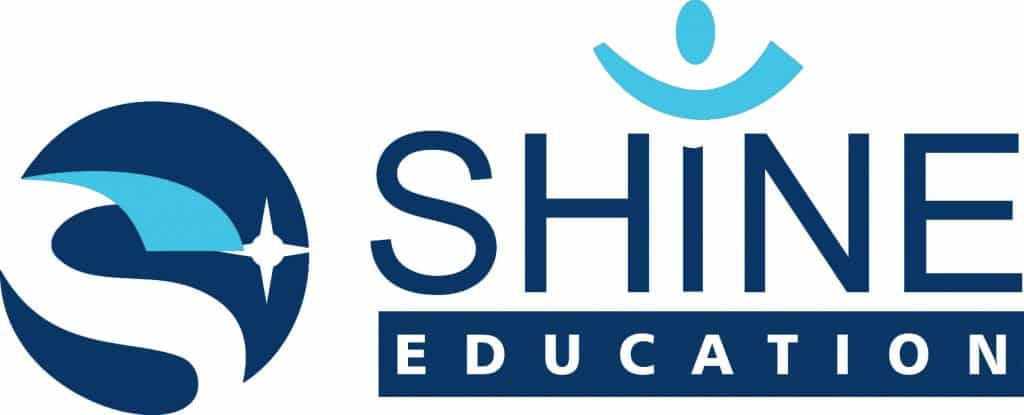 Shine Computer Education is ISO certified and provides digital marketing courses in Vadodara. They started their journey more than 6 years ago. They started with computer training and gradually started providing digital marketing certification courses. Along with the course they also provide placement support for their students. They are not just an academy but also an IT company.
Course Details

Course Name
Digital Marketing Certification Course
Course Rating
4.4/5
Course Fee
₹22,000
Course Duration
3 Months
Course Modules:
Digital Marketing Introduction

Google Business Strategy

SEO IN DETAIL(ON-PAGE AND OFF-PAGE)

SEO – ONPAGE AND OFFPAGE SEO

Website Design Guide and Hosting

Google Paid Ads

Google Search Ads

Facebook Marketing – all paid ads

Instagram Marketing

Twitter Marketing

LinkedIn Marketing

YouTube Marketing

Email Marketing Techniques

Affiliate Marketing

App Marketing

Lead Generation

Blog Creation

Google Webmasters

Google Analytics

Secret Paid and Free Tools

Design Social Media Posts

Video Editing

Online Certifications
Course Highlights:
Get Online Exposure

100% live project training

Small size batches

Provides placement training

Free demo class
Contact Details

Website
https://www.shinecomputer.in/Digital-Marketing-Course-In-Vadodara.html
Phone No.
+91 9726153191
Email Id
[email protected]
Address
243 Aristo Commercial, Opp. Sanghani Skys B/H Hyatt Place, Nilamber Circle TP-2, Bhayli, Vadodara, Gujarat 391410